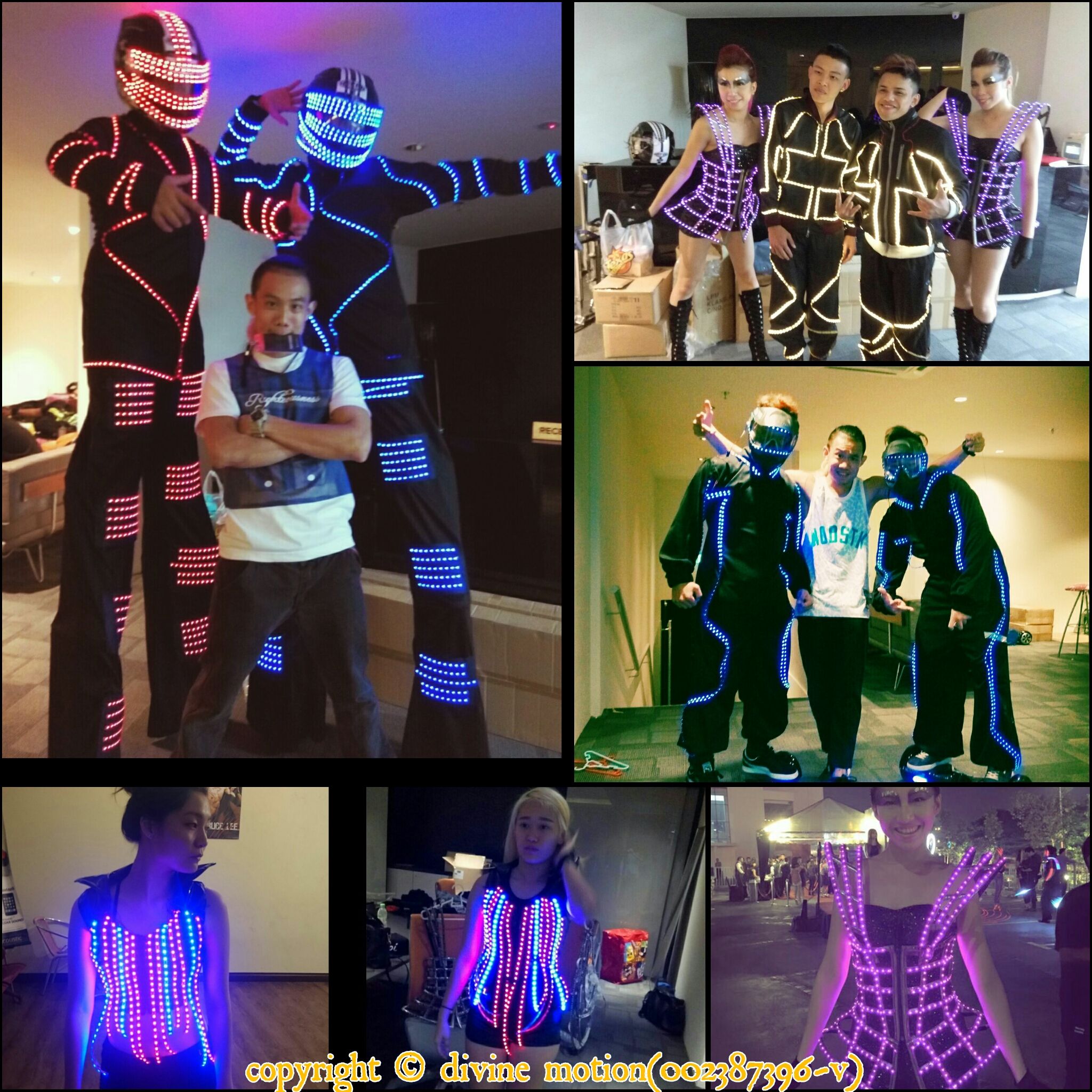 LED EL NEON LIGHT DANCE SHOWCASE
&
LED EL NEON COSTUME RENTAL & CUSTOMIZATION
We have done various dance performance & choreography involving with EL (electroluminescent Lights) & LED suits ; for Company annual dinner, or launching events and event promotion roadshows. Included Dance performances with collaboration with laser lights and Light instruments.
We provide a wide range of LED Costumes' Customization:
From LED light suits, to Stage Mini Signage & Rental Services
Some of our portfolio & clients are:
– Digi let's inspire launch
– Zouk KL club Launch
-Maybank Global CR DAY September 2015 and more.
*Led customization are Hand-Made locally by skilled technicians and not ordered from abroad from other countries.
Our USP(unique selling point)
1)customization can be done according to clients' provided designs
2)provide on-site technician to Clients' event (to rectify any led wiring breakage during rehearsal)
3)provide 1-3months warranty on LED strips to customized suits (free fixing on manufacture defects of LED strips through few working days)
We also Provide Various SPECIAL LIGHTING EFFECT DANCE & Costume rental
services: annual dinner show, launching events, private party performances,
new year eve show…etc
YOUTH LAUNCH LED DANCE(EMERGE CONFERENCE)
ANNUAL DINNER COMPANY (SOWING SEEDS)
PRE-KEMERDEKAAN LAUNCHING GIMMICK
MALAYSIA LED EL SPECIAL EFFECTS DANCE & SERVICES
Presenting: The New Generation 'X-Predate; LED L
LED lazer dancer Mazda cx-3 Launching
Divine Motion LED SQUADRON
LED BALLERINA OPENING DANCE
National Art Gallery 60th Anniversary
👽ware Gaming Laptop Launch Show